English Grammar Tests (PDF)
A great variety of English tests that will help you improve your grammar and increase your vocabulary.
---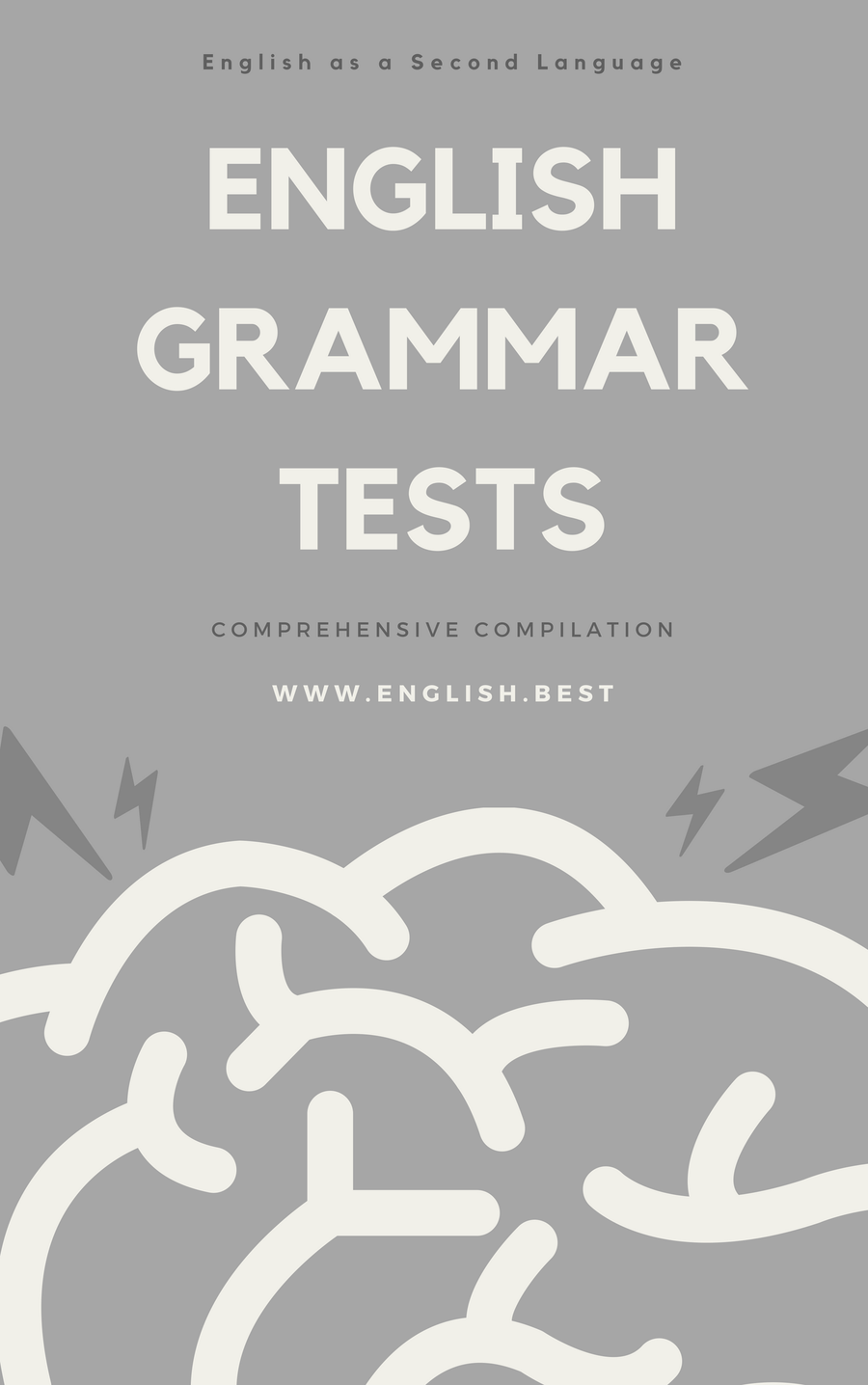 Searchable
Printable
Photocopiable
Samples to download for free
1528 English Grammar Tests
A great variety of English tests that will help you improve your grammar and increase your vocabulary.
In a few minutes you'll be able to start practicing and testing your English Grammar skills in both an effective and pleasant way. You will experience a new and exciting method of increasing your word power and refining your grammar. With this product you will be able to delve into the depths of the English language and explore its diversity and richness. If you use your English Grammar Test Collection the right way, you will become wiser and wealthier too. So read on and enjoy the ride!
Here is the Million Dollar Question: "How can I improve my English as fast as possible?" And you will be surprised to find just how simple the answer really is. Learning English grammar fast is simple but it certainly isn't easy. There is one single word that describes the secret to improving your English grammar: HABITS. Yes, you've heard that right. If you want to learn English grammar, you have to establish "English grammar habits". In a few moments you will get access to a tool that helps you develop the habits you need to improve your English grammar constantly. Every day of every week.

With your new English Grammar Test Collection you will be able to assess your knowledge of English phrases, idioms, expressions and grammar structures over and over again. Once you have identified your weak spots, you can then concentrate on those areas and become more confident in using English grammar every day. Forget about cramming grammar rules or vocabulary words into your head. Instead, you will be absorbing bits and pieces of English grammar almost without realizing it. Harness the power of your subconscious mind!

This product is the only printable English Grammar Test Collection currently available on the Internet. It contains 1528 English grammar exercises (10 questions per test plus answer keys) covering a wide variety of topics and grammatical points. But unlike the traditional English grammar books, your English Grammar Test Collection provides you with a system that constantly monitors your learning progress and improves your English grammar skills. You will find it fun taking these unique multiple choice grammar tests because with every question you answer correctly your English grammar improves. Some of the test questions you will find easy while others might contain new phrases and expressions. If you take at least one test per day, you will soon notice just how your English grammar gets better. Each test comes with an answer key and your brain will automatically store the correct choice. You won't have to read through difficult grammar explanations or do boring exercises.

You probably think to yourself that grammar is important when you want to speak correct English. And you are right of course. However, thousands of people ask themselves: How can I learn English grammar? What would you give to get an answer to this question? Well, in a few moments you can embark on your own individual journey to a high level of grammar proficiency.

But first let's take a look at the conventional grammar teaching methods and the reason they fail. The vast majority of English learners attend English classes in the hope that a teacher can teach them English grammar. They think that they must learn grammar rules and read a lot of grammar explanations. Their teacher tells them that grammar rules are important and without a good knowledge of grammar they can't speak correct English. So the students try hard to study all the grammar rules of English. Do you know how many rules there are? There are thousands of them and it is simply impossible to learn them all through conventional methods. Most English teachers won't tell you this but it's a fact that in order to speak correct English you actually don't have to learn grammar rules. Do you speak your native language correctly? You most certainly do. Now, how many theoretical grammar rules of your mother tongue can you explain? How often do you think about grammar rules when you speak in your native language? Why then do you think you need to be able to explain grammar rules when speaking English? What you need is to learn correct English rather than grammar rules. You want to use English as a means of communication, you don't want to give lectures on English grammar, do you?

The English Grammar Test Collection you are about to obtain has been specifically designed to help you learn correct English in a very dramatic way. Instead of studying complicated rules and explanations you will absorb English phrases and expressions easily. What you need is to trust in the capabilities of your subconscious mind. Yes, don't waste your mental energy on cramming grammar rules into your head. Concentrate on the important things. The sentences in your English Grammar Test Collection contain a large number of commonly used expressions and phrases and all you have to do is take the multiple choice questions several times until you are absolutely confident as to the correct answer. That's it. Instead of learning grammar rules, you will be learning correct English expressions. Your subconscious mind will absorb these phrases and detect the underlying pattern.

Don't worry about explanations. Simply enjoy your learning progress and be happy because you know what is correct. Don't bother with the question why it is correct. Remember how you learned your mother tongue. You know WHAT sounds correct without being able to explain WHY it is correct. It's the job of linguists to give complicated explanations on grammar questions. And that's exactly what you will find in the vast majority of English grammar books: Longwinded explanations and descriptions of rules. You have to ask yourself whether you really need all this information. Do you want to earn a living by explaining grammar rules? Who is interested in all these explanations? Your goal is to learn correct English and you can achieve this by reading the sentences of your English Grammar Test Collection over and over again. Learn them by heart and you will see that your brain is able to create new sentences following the same patterns. It's exactly how you learned your mother tongue. No matter what other English language teachers might tell you — the single most powerful method of learning English grammar is to learn as many correct English phrases and expressions as possible. As a matter of fact, the author of your English Grammar Test Collection, Alan Townend has been teaching English grammar for several decades. Over this long period of time he has collected the most commonly made grammar errors by students of English. Now you can benefit from this great wealth of expertise and experience. Delve right into the world of English grammar and explore for yourself. Here is a quick snapshot of some of the items you will easily be able to learn:
expressions and idioms with prepositions
active vs. passive voice
how to use the conditionals
how to use the English tenses correctly
how to ask questions
how to add question tags
how to use conjunctions
tense agreement
gerund vs. infinitive

You will find a complete list of grammar topics. So what are you waiting for? What are the alternatives to learning English grammar in context? Think about it. Just how effective was the last English class you attended? But don't think too long, make up your mind and start your English Grammar Journey today!
Here are the main features of your new product and your benefits:
It's in a printable format (A4)
You can print any of the pages and take them with you and show them to your friends and family. Each page comes in the A4 standard format so you can easily copy and file them in a folder.
Robust and universal file format
PDF (Portable Document Format) is the most popular and reliable document format worldwide. You can read, print and store PDF documents on your computer, laptop or PDA with a program that is available for free.
Photocopiable
You have the permission to make photocopies of the document or parts of the document to use it as handouts/worksheets in classrooms or training courses.
Neatly formatted and clearly structured
You can quickly navigate through the entire document by using the index page. Every page has a number and you can jump from one page to another by clicking on the forward or back button in your PDF reading program.
Learning English anywhere
You can practice and test your English grammar skills wherever you want (in the tram, in the doctor's waiting room, in a restaurant, at your friend's home, or wherever.) You can choose where and when you want to test and improve your English. Simply print off some tests you find interesting and take them with you on your trip.
Search function
You can quickly find specific phrases and expressions by using the "search function" of your English Grammar Test Collection. Simply type in the keywords you are looking for and hit the "search" button. The search results will show up within seconds.
15280(!) unique test questions
You can create your own long term learning program and take several tests every day. That way you establish and maintain the habits you need to succeed in improving your English constantly.
Every test question comes with an answer key
The key shows you which answer is correct and you will easily memorize these new phrases and expressions. If you take a test several times, your result will get better with every try until you get all the answers right. This way your subconscious mind memorizes new grammar patterns and vocabulary automatically. You don't have to learn any grammar rules!
Three test levels: beginner, intermediate, advanced
You can start with the level you are most comfortable with and then move on to the next stage. See how fast you are making progress and get excited by your success!
Several topics are covered
English grammar: pronouns, phrasal verbs, tenses, countable vs. uncountable nouns, compound nouns, modal verbs, conjunctions, reflexive pronouns, transitive vs. intransitive verbs, active and passive voice, conditionals, reported speech, complex prepositions, tenses, and many more